Price search results for Sky Drone Plus (product close match)
---
Related Products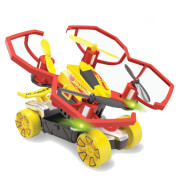 Get ready for a revolution in vehicle play with Bladez Drone Racerz! Fly the drone indoors or out, flip 360º and try the drone gate challenge! Now connect the drone to the exclusive Hot Wheels car chassis included to drive, drift and race your friends...
---
When you want to introduce your little one to the wonders of flying a remote control drone, this 'My First R/C Drone' is the ideal way to do it, with a brilliant combination of a super-simple control scheme and a surprisingly efficient design...
---
There's no getting away from it, selfies are here to stay. Open up any social media app and there's all your friends, families and celebrities with outstretched arms or extended selfie-sticks trying to get the perfect shot! Luckily there's a nifty...
---
4 Channel Omni-directional Sky Drone Plus V2. 2MP 720P 75° adjustable HD Camera. Easy to use LED display controller. Features headless flying and return function.
---
Sky Drone Plus replacement blades. 4 blades: 2 'A' blades & 2 'B' blades. Easy to remove & attach to your drone. Prolong the life of your favourite drone. Great accessory alongside the Sky Drone Plus.
---
Amazing Sky Drone Plus V2 with whole load of amazing features. Headless flying mode and one key return. Easy to use controller with LED display. Outdoor anti-wind, obstacle avoidance for easy flight. Range of 80 metres and impressive 8 minutes of flying....
---
Live video streaming on your Smartphone or Tablet. Easy to pilot with the free dedicated App Freeflight 3. Features 14 megapixels 180 degree fisheye camera stabilised on 3-axis. GPS embedded for automatic return home and accurate flight control. Record...
---