Merchant A-Z / Liberty Games (showing 41 to 50 of 173)
---
---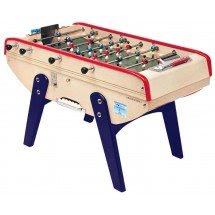 The Bonzini B60-ITSF has been designed specifically for use in ITSF official training. Fitted with a coin mechanism, it's perfect for busy venues where players need the very best performance possible. Built tough, with bars and cafes in mind, the telescopic...
---
This special version of the renowned Bonzini B90 Classic football table features spectacular transparent PMMA legs. This gives the table a futuristic look that really makes a statement in any office, home or venue. Aluminium players are fitted to telescopic...
---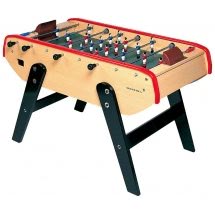 Bonzini's Le Stadium foosball table is an icon of games table design. Designed to be a spectacular and inviting piece of games equipment, it's also extremely tough and durable. Built from beech timber with aluminium and steel parts, the Le Stadium can...
---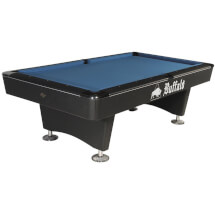 The Dominator, made by Buffalo, is a tough, hard-wearing slate bed pool table that's appropriate for communal areas and home games rooms. The three-piece slate bed ensures perfect precision and ball performance, and the rubber cushions are of tournament...
---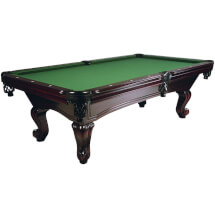 The Napoleon is a regal, traditionally-styled American pool table based around an inch-thick three-piece slate bed. With leather drop pockets at each corner, carved detailing in a Roman/Greek style, and Mother-of-Pearl sights in the top rail, the Napoleon...
---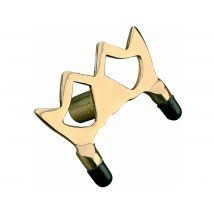 This brass butt rest head features a shiny metallic finish. It's made of durable materials and is safe for use on all tables and cloth.
---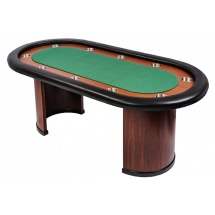 The SB10 poker table is probably the best home poker table around. It seats 10 people with plenty of space for games, and is clad in a special speed baize. Foam padded arm rests make even the longest games comfortable, and the tabletop is fitted with...
---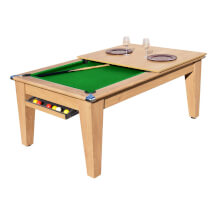 Probably the most popular slate bed pool dining table on the market, the Classic Diner is a true dual-purpose table for the home. A quality slate bed, unique ball return system and high-grade rubber cushions make this a great player, but the high cabinet...
---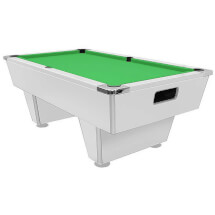 The Club is a classically-styled slate bed pool table with a chunky cabinet and a simple, clean design. Its wedge-shaped body looks just like a pub table, but the Club does without the coin mechanism and ball return system of its commercial siblings....
---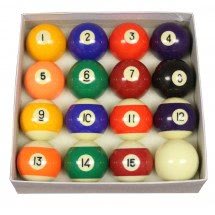 This set of 14 standard balls (7 spotted, 7 striped) includes one black 8 ball and one cue ball, all made from a homogenous material that ensures that each ball's centre of gravity remains perfectly stable. This means that these balls roll exactly as...
---