Merchant A-Z / Liberty Games (showing 21 to 30 of 170)
---
---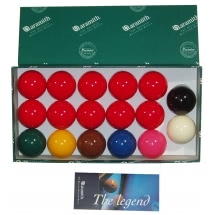 A high quality set of snooker balls designed to be used on 6ft or 7ft UK standard pool tables as a means to play both pool and snooker in one. Manufactured in Belgium using phenolic resin, these durable balls are designed to maintain their shape, balance...
---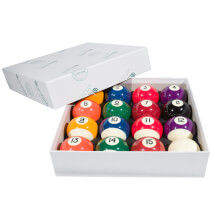 These 2" pool balls are made with phenolic resin, designed to keep their shape, weight and colour for longer. This classic looking set of 16 balls, featuring numbers 1 to 15 and a cue ball, are ideal for both home and commercial use.
---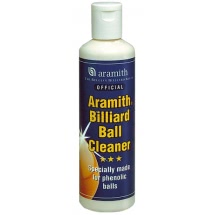 This ball cleaner is specially designed to clean phenolic billiard balls to a high shine. Regular use will help maintain the finish of the balls to provide a smooth surface for even rolls. Prolong the life of your pool balls by cleaning after each use....
---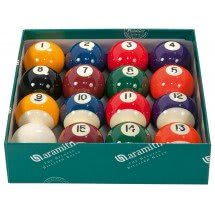 The Premier 2 1/4 inch Spots and Stripes pool ball set is made from the Belgian experts' renowned phenolic resin, ensuring the balls are able to maintain their shape, weight, colouring and balance throughout a prolonged period of use. These balls are...
---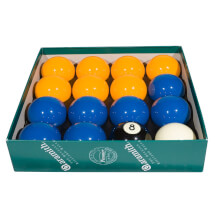 These Belgian pool balls are made with phenolic resin, making them both scratch resistant and burn mark resistant. Able to withstand powerful shooting during regular use, they also maintain a smooth roll and superb rebound. Featuring 14 balls in blue...
---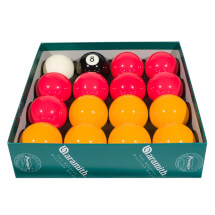 This Belgian made set of billiard balls is designed to resist scratching and burn marks left by cues when they strike the surface. Solidly constructed for a powerful shot as well as a great rebound and even roll. This complete set features 14 red and...
---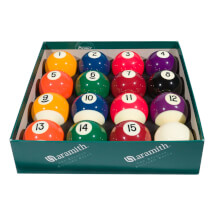 Made using phenolic resin, these balls maintain their shape, weight and colour for longer. These Belgian billiard balls feature the classic spots and stripes design pattern, numbered 1 through to 15. This full set includes seven 2" spots balls, seven...
---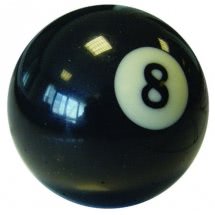 This 8 Ball is suitable for use with all domestic freeplay and coin operated pool tables. Made using phenolic resin, this durable 8 ball is built to retain its shape and weight and will withstand years of regular use.
---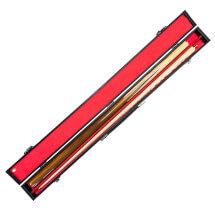 The two-piece cue makes transporting a lengthy piece of equipment easier, but this Attache Cue Case takes it to the next level by offering a dual-purpose storage and transport method that is both practical and stylish. Designed specifically for two-piece...
---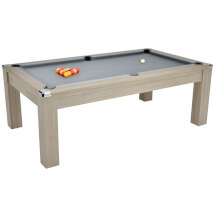 The Avant Garde 2.0 is a stylish combination of pool table and dining table, designed for the keen pool player with a compact home. A precision-ground slate bed gives commercial-quality play just like any pool hall or pub table, but when the included...
---